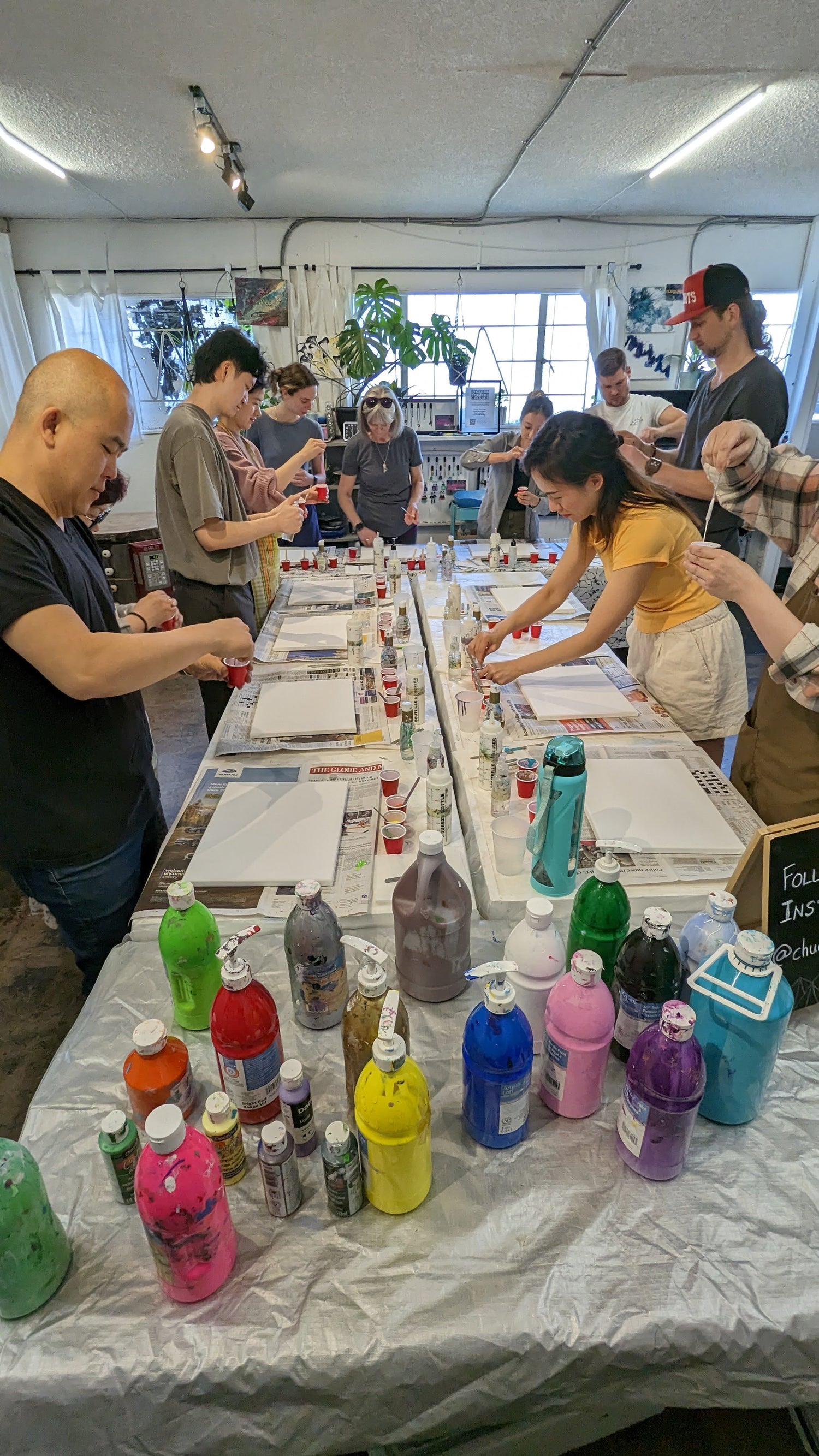 In-Studio
Chu Chu Studio is conveniently located at 1630 Pandora Street with plenty of free street parking in the neighbourhood.
This bright studio can host between 8-15 participants depending on the art class you are interested in.
From painting classes, jewellery making and specialty pottery workshops, you'll find a discipline suitable for your group and keep coming back for more!
Benefits:
- Studio with bright windows
- All materials and equipment for your workshop is set up prior to your arrival
- Customization is available upon request, just ask!
- Fully accessible and fun for all ages
- Taught by a fine artist with 20+ years of experience
- An intimate atmosphere for you and your group to interact and create art together
Available Classes
Most of our classes are available to book as private workshops however there is a limitation to how many participants we can accommodate.
1. Fluid Pour Painting - max 15 people
2. Pulled String Paiting - max 15 people
3. Resin Jewellery - max 10 people
4. Personalized Metal Stamping Jewellery - max 10 people
5. All Pottery Classes - max 9 people
Rates
Pricing:
The easiest way to get pricing for your private class is to fill out the Private In-Studio Request Form. Your quote will be determined by the following criteria:
1. Which class are you interested in?
2. How many participants?
3. Weekday or weekend?
We do charge a minimum of $250 to run a private session regardless of the number of participants plus the cost of materials.
Example:
The more people you have in your group, the better pricing is per person!
Weekday at 2pm
Fluid Pour Painting
8 people - $65+gst/person
4 people - $75+gst/person
Hand-building Pottery
8 people - $85+gst/person
4 people - $100+gst/person
We welcome all inquiries and try to accommodate everyone as best as possible so please contact us for more information at classes@chuchu.ca
Fill Out Form
Off-Site Private Classes
Want an art class at your location instead? I do that too!
In most instances you will have to provide enough table space for all your participants and potentially a hand washing station nearby.
We will schedule a consult so your workshop will run smoothly and we'll provide all them art materials.
There is a surcharge for travel and extra time for setup and clean up.
Best thing is to inquire and request a quote by filling out the form below.
Fill Out Form