Art Makes You Happy
Chu Chu Classes are designed to be super fun, packed full of information and teaches you the necessary techniques
to get you started on making something artistic and new!
To register for a class go to our 
Class Calendar
.
Pottery classes taught at community centers are all booked through the Vancouver Recreation website.
DIRECT CUSTOMERS
The Class Calendar and online scheduler is easy to use but if you would like detailed instructions on how to register for a class, please click here.
GROUPON STUDENTS
If you purchased a Groupon for Intro to Fluid Pour Painting, please ensure you read these directions before you book your class or follow the instructions above the class calendar.
My studio is a one-stop creative source for people looking to learn pottery and art in a fun and positive space! The reviews speak for themselves. Click Here
Variety of different creative art class types including pottery, painting and jewellery-making
Pottery workshops have no limit to how many pieces you make and a wide range of glazes to choose from
Open, bright studio with ample space per person
Positive classroom that encourage laughter, story-sharing and creative support
Inclusive and promotes diversity and accessibility to all artistic levels (even if you think it's none!)
Small class sizes: 6-10 participants depending on workshop, lots of one-on-one attention (groups of 1-15 are welcome for private bookings depending on class)
20+ years of teaching experience in a variety of media
Conveniently located near Commercial Drive and Powell Street>
Free street parking
Group Classes
The calendar at the bottom of this page displays scheduled group classes that you can join. Everyone is welcome to book these classes including Groupon Voucher holders (Intro to Fluid Pour Painting only).
Many classes are rotated monthly so they are not available every single month.
*Please note the group classes only run if there are at least 4 participants registered.
Private Classes
See a class that you like and want to book a private lesson for just yourself or a group of your co-workers, family, and friends at my studio?
I offer custom workshops at my East Van location, please request a price quote by filling out this Private In Studio Request form.
*there is a $250+gst minimum charge not including materials to book a private class, the more people you have in your group, the better pricing is per person!
Off-Site Classes
Team building, birthdays, bachelorettes, summer camps, schools and more!  Off-site bookings are custom tailored to your group, pricing and availability varies depending on the type of class, location and number of participants.
Fill out this Off-Site Request form to get the conversation started! 
*Private and off-site classes are not available for Groupon students
Starting April 1, 2023, the material cost for painting classes will increase by $5. We have maintained the same pricing since 2019 however unfortunately art supplies have risen significantly over the last couple of years and our pricing has been adjusted to reflect the change.
FAQ
There is a dedicated page answering commonly asked questions! Please see the FAQ page for more details.
What's New at Chu Chu Studio
Personalized Metal Stamping Jewellery

$60 | 1.5 hours

Learn how to stamp aluminum or brass blanks for your own personalized custom necklace, ready to take home at the end of the class!

Many styles of letters, stamps, chains and decorations are available in class.

...

Tues Sept 26 | 5:30-7:00pm

Pottery Drop-In - Make Whatchu Want!

Make & Glaze Option:

$45 | 2 hours

You make your pieces and book another session to glaze them. Clay not include and can be purchased at the studio.

---

Make Only Option:

$80 | 2 hours

You make your pieces and the instructor will glaze and fire them for you. Includes 1lb of clay, glazes and kiln firings.

---

Available on weekday afternoons, inquire to arrange a date/time!
Ceramic Pottery Specialty Classes
Learn the process of clay building, firings and properties of glazes in specialty workshops available atChu Chu Studio, West End Community Centre and West Point Grey Aberthau Pottery Studio.
Pottery at Community Centers
Fall 2023 Registration is opening soon!
West Point Grey - Sat Aug 19th at 9:00am
West End - Tues Aug 15 at 7:00pm

Beginner Wheel Throwing with Chu Chu

Live your "Ghost" moment and join this beginner wheel throwing class where you'll learn great techniques to start making your own cups, bowls and more!

--

West Point Grey Community Centre:

Sept 11-Dec 11 | 2:30-5:30pm

Basket Weaving Dish or Trivet

Learn how to transform clay into a basket weave low dish or trivet! You will learn techniques on how to weave or braid your in your pattern choice!

--

West End Community Centre:

Sept 14 & 28 | 6:30-8:30pm

All About Underglazes

A one day crash course on the world of underglazes, how to use them, variations and a multitude of techniques.

--

West End Community Centre:
Sept 21 | 6:30-8:30pm
Creative Art Classes
Interested in a painting, jewellery or a candle workshop? These classes are taught at my East Van private studio at 1630 Pandora Street.
These classes are also to book privately for team building, corporate companies, birthdays, bachelorettes and celebrations. The more you have in your group, the better the price is per person!
Some of these workshops are occasionally offered to the general public, if you don't see the class you want now, check back later. Better yet, sign up for my newsletter to know in advance what's coming up!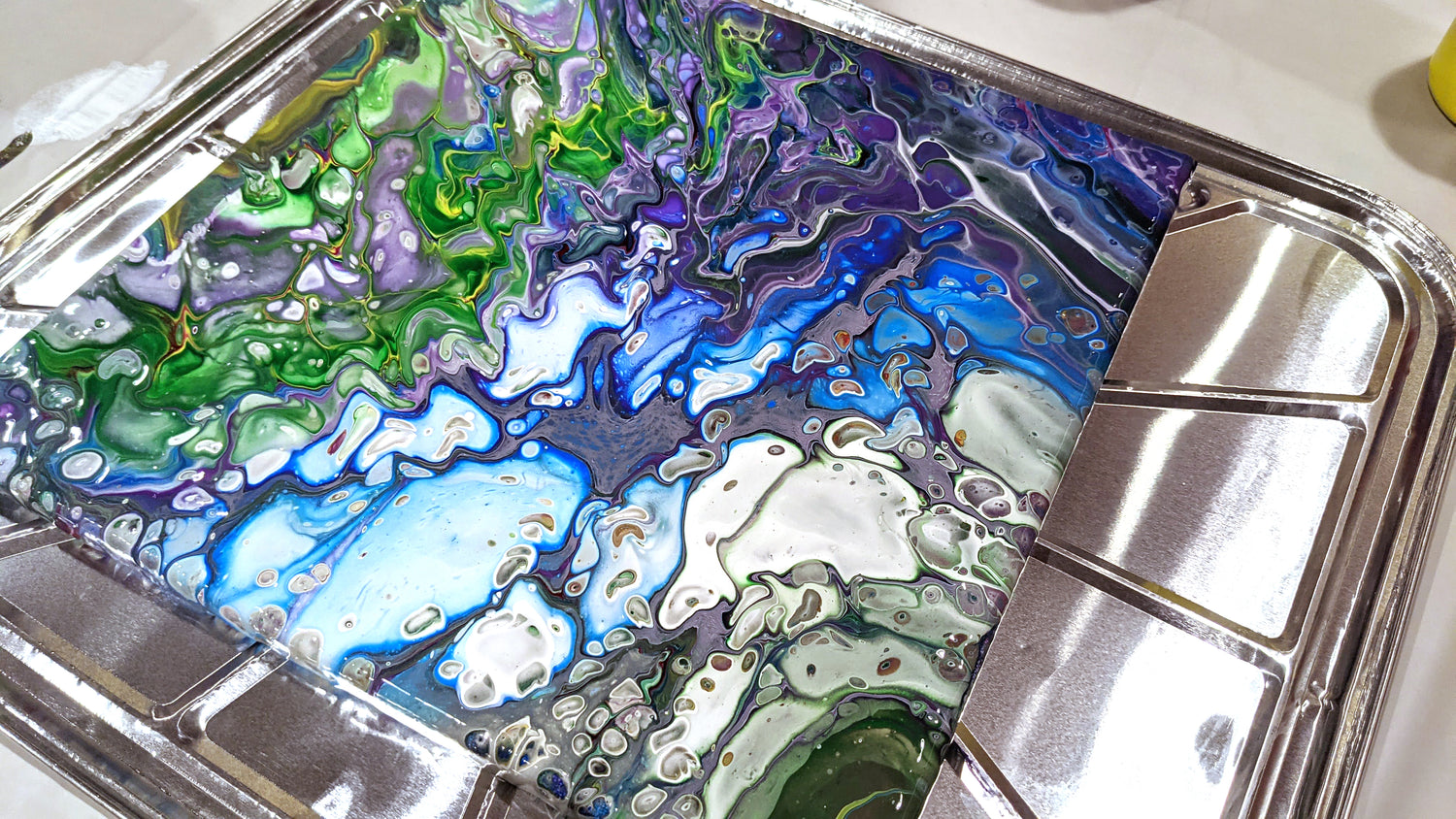 Intro To Fluid Pour Painting
$60 (promo $40 class fee, $20 material fee) Regular price is $80+GST
Availability: Monthly group classes and private bookings

Reveal paint marbling and cells like magic!  Lots of paint colours to choose from.
REGISTER NOW
Available for Private Bookings
Intermediate Fluid Pour Painting

$80+GST and up (includes materials)

Availability: Rotating monthly and private bookings
Advanced techniques on planning composition, controlling flow of colours and adding tricks to your repertoire! Two paintings are made in this workshop.

Terrazzo and Colour Block Soy Candles

$60 and up (includes materials)

Availability: Private bookings only
Make two full size candles while learning professional techniques to colour your wax.  Over 50+ fragrances to choose from!

Personalized Metal Stamping Jewellery

$60 and up (includes materials)

Availability: Private bookings only
Customize a variety of metal blanks for a unique necklace that is one-of-a-kind. 
Resin Jewellery Class

$60+GST and up (includes materials)

Availability: Rotating monthly and private bookings

Choose to make a pair of geometric earrings or two necklaces using a variety of techniques and inclusions available in class.

Pulled String Art Painting

$60+GST and up (includes materials)

Availability: Private bookings only
Create abstract flowers, organic shapes or feathers in this creative class using string and chains.

*please note that material fees will be increased to $20 starting April 1, 2023

Beginner Knitting or Crocheting

$45+GST and up

Availability: Private bookings only
Learn basic stitches and proper technique with a certified instructor in fibre arts. 
MORE INFO
Add Ons
Regular price
Sale price
$60.00 CAD
Unit price
per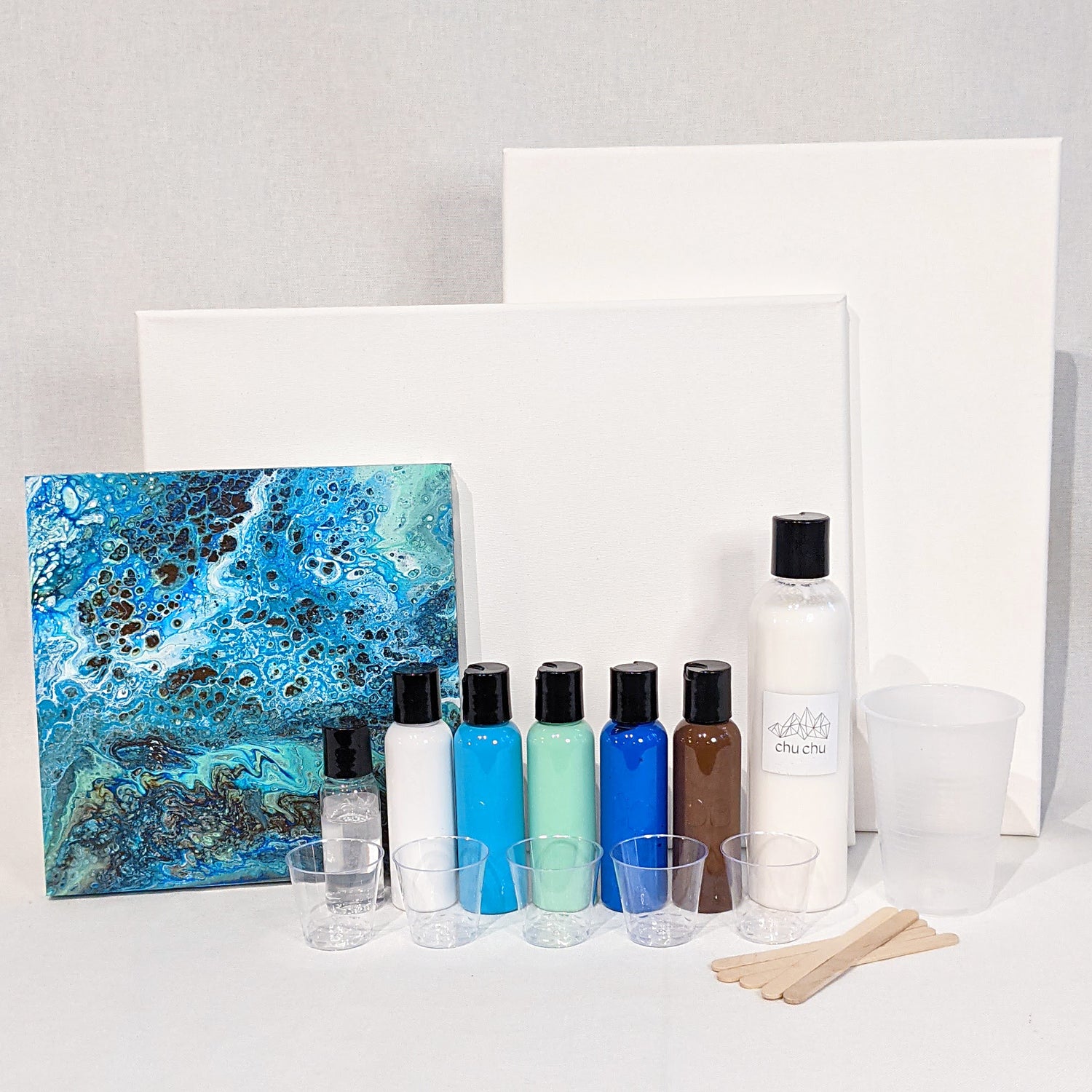 Regular price
From $50.00 CAD
Regular price
Sale price
From $50.00 CAD
Unit price
per